The Best Chocolate Cake Ever.... EVER!
I was lucky enough to run into this recipe on the
net
and thought that I would try it. Results; AMAZING! It's the best and most moist cake that I have ever made or tried. It's very rich and chucked full of chocolate so if you're looking for a sweet treat, this is it!
Let's get started! Here's the ingredients you will need for the cake: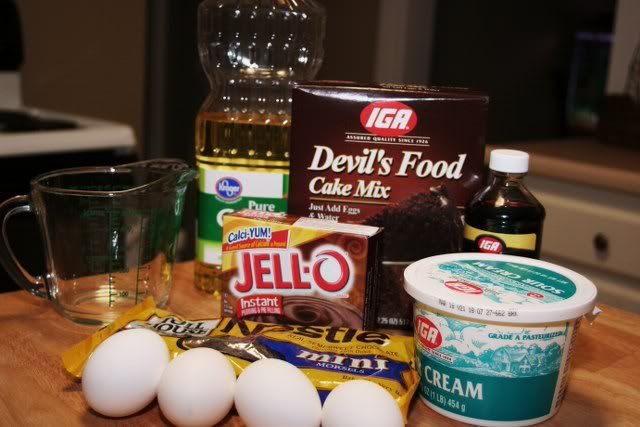 Ingredients:
1 box devil's food cake mix
1 package Jello instant chocolate pudding mix (not the sugar or fat free kind!)
1 cup sour cream
1 cup vegetable oil
4 eggs, beaten
1/2 cup milk
2 tsp pure vanilla extract
2 cups mini semisweet chocolate chips
First things first, preheat your oven to 350 Degrees.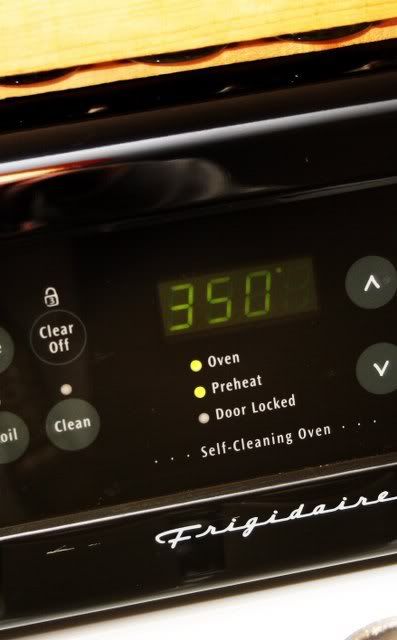 Put all of your ingredients except for the chocolate chips into a medium mixing bowl(a 4-quart will work just fine.)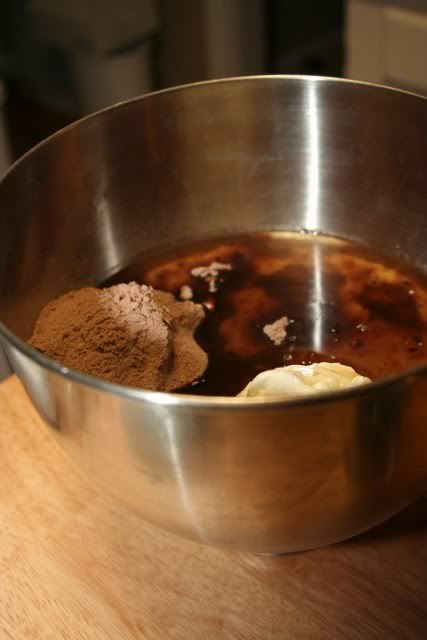 Mix well with a beater - The batter will be thick.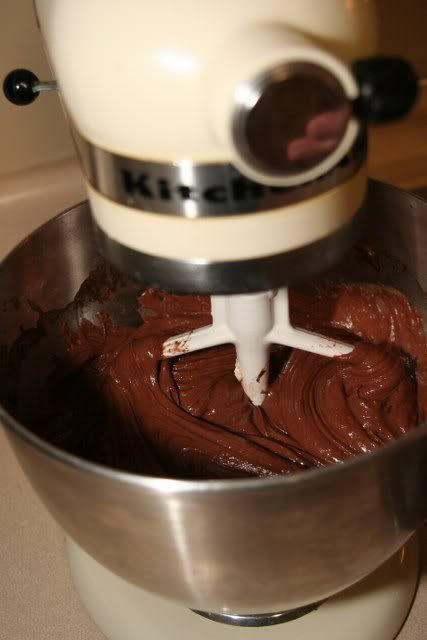 Add your 2 cups of mini chocolate chips - pictured are large ones(I forgot to take a photo so I took a photo with large ones for example) I used the mini chips in recipe - they work best.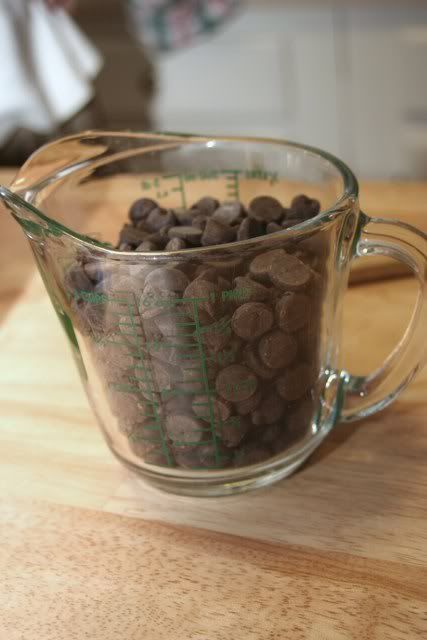 Mix until well blended.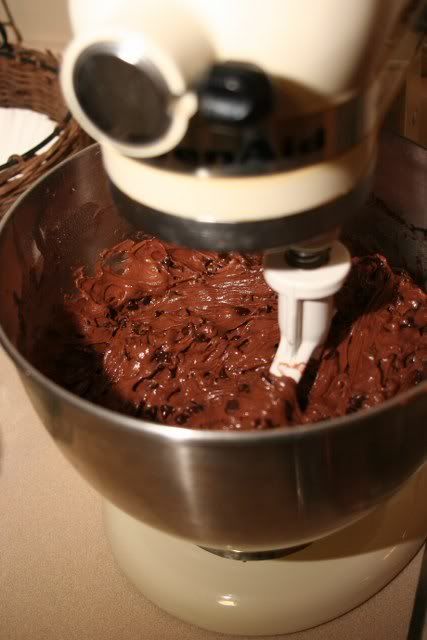 Grease pans very well - I used 9 inch cake pans but you can use whatever you like - sheet cake, cupcakes, bundt cake, etc. Scoop batter into pans of your choice, batter is very thick so it will not pour.
You can follow the directions on the box for bake times but ovens tend to vary. I set mine to 45 minutes and they were perfect.
Be sure to check your cakes often and test them with a toothpick or cake tester. Please remember that you may see a little chocolate as there are the chips in the cake and there's a good chance you will stab into one. You can pretty much tell when the cake is ready by lightly pressing the top and it will bounce back and be fluffy.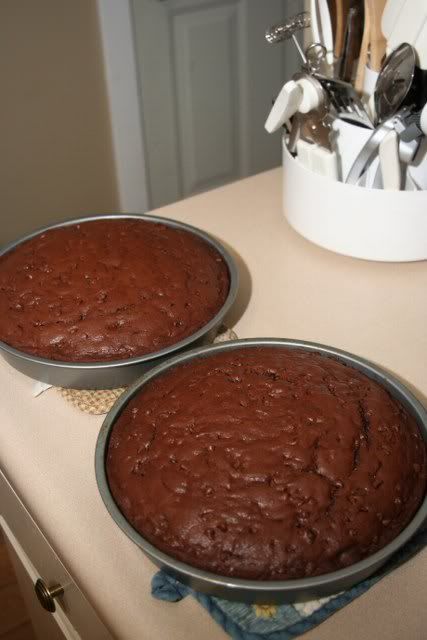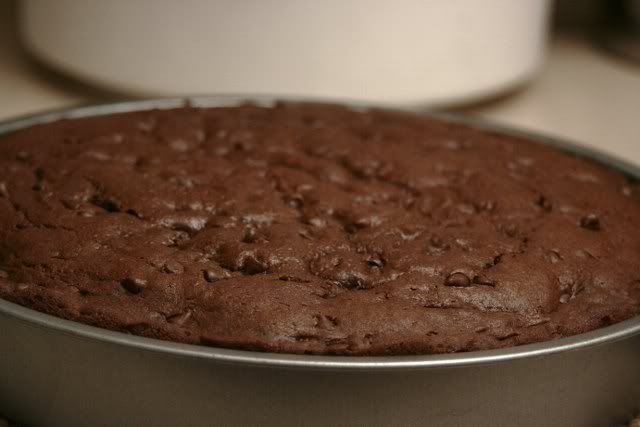 I know you may want to dig in now but let it cool! You can now work on the yummy butter cream icing. It will be worth the wait, I promise!
Here's the ingredients you will need for the icing.
Ingredients:
1 cup shortening
4 cups powdered sugar
1/4 tsp salt
2 tsp vanilla extract
1/3 cup heavy whipping cream
In a mixing bowl add shortening and blend until fluffy. This step may take a little bit depending on how soft the shortening is.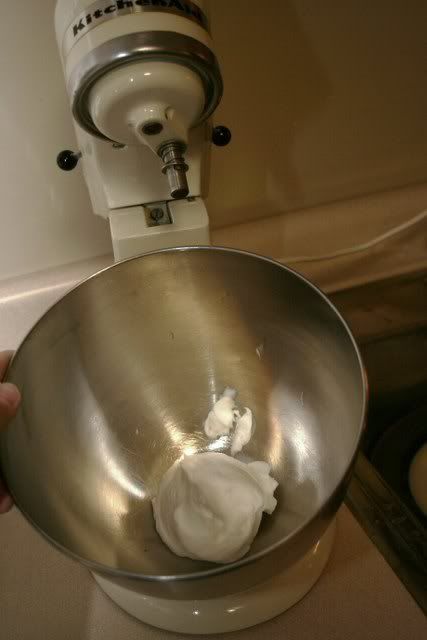 Add Sugar a little at a time and SLOWLY blend until well blended. Add Vanilla, Heavy Whipping and Salt - Blend well until fluffy. You may have to scrape the sides a few times. Make sure that you get it fluffy and don't leave any clumps.
The icing is all done - We're ready to add it to the cake! I put mine on a pretty cake stand.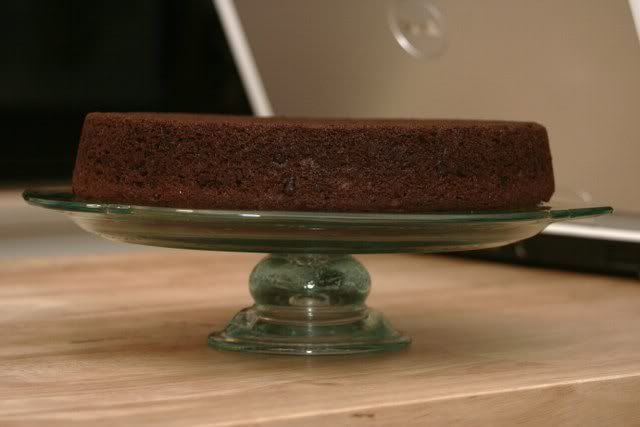 Add a thin layer of icing to the first layer and carefully place the second layer on. Icing top and then add to sides. I also put some sprinkles on mine.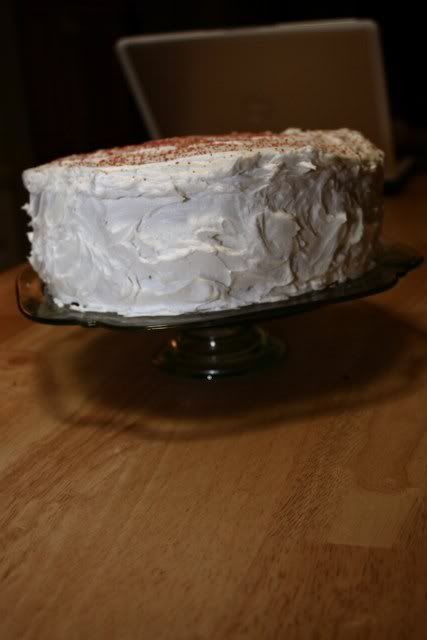 Last but not least, grab a cold glass of milk and Enjoy!!